PCOS venlige (spise) vaner
Online workshop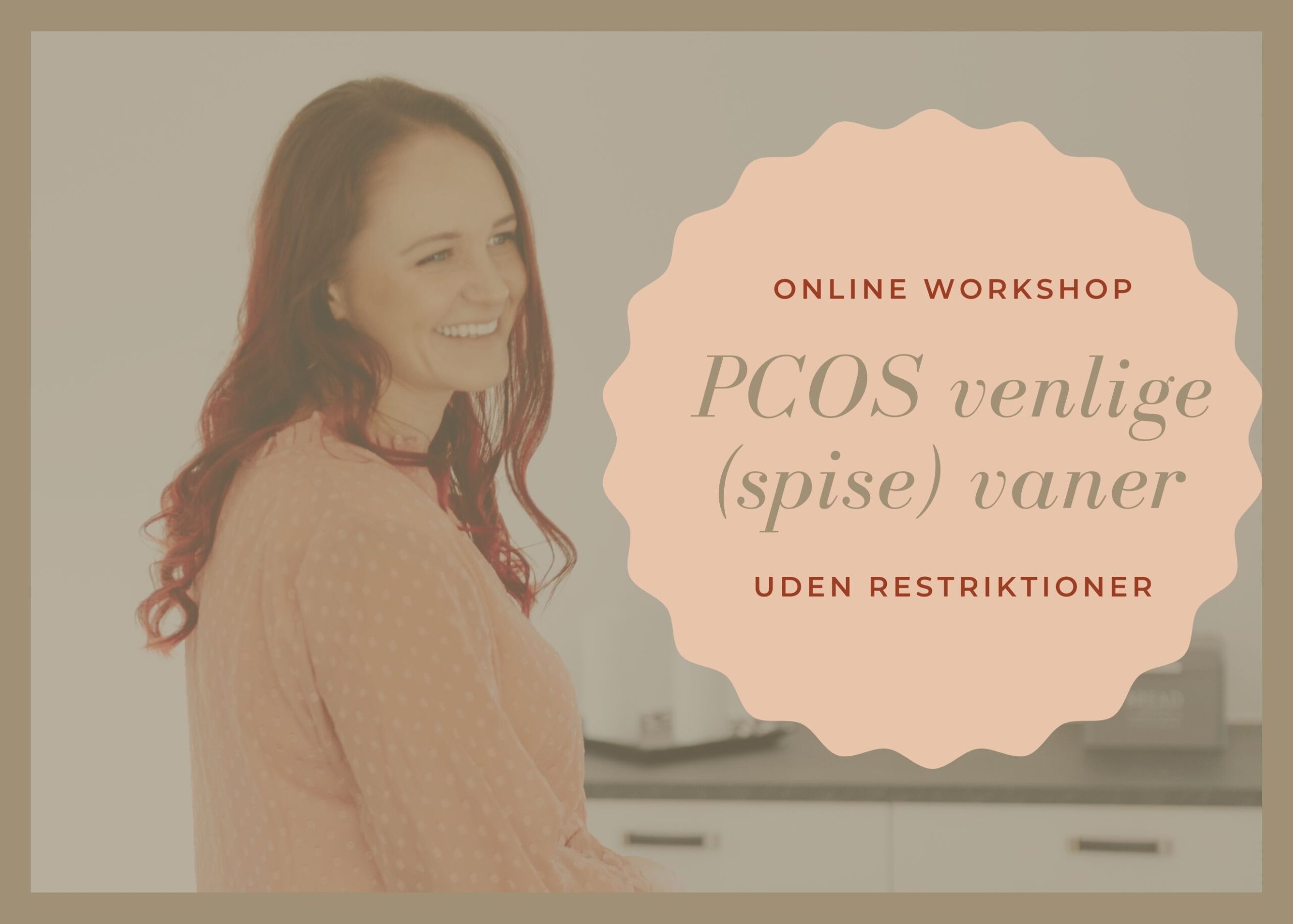 Bare er klar til at hjælpe din krop bedst muligt til at mindske dine PCOS-symptomer. 
Du vil gerne væk fra restriktive diæter og kostplaner og så har du brug for mere viden omkring kosten i forhold til din PCOS. 
Og så ønsker du nogle helt konkrete vaner som vil kunne hjælpe dig imod målet. 
I gennem de seneste par år  har jeg hjulpet en masse skønne kvinder til at mindske deres symptomer, til at få det bedre i deres krop, en del har endda fået regelmæssig menstruation og flere er blevet gravide. 
I denne workshop  deler jeg en nogen af ​​de helt grundlæggende vaner og værktøjer som har hjulpet mine klienter og mig selv i mit eget arbejde med min PCOS.
Jeg deler en masse viden omkring kosten og PCOS. 
Og så kommer jeg med nogle helt konkrete forslag til hvilke vaner du med fordel kan implementere i din hverdag, som vil gavne din PCOS. Og hvorfor!   Jeg deler også et powerfuldt mindset fokusskifte der kan hjælpe dig væk fra de restriktive tanker omkring maden og fif til hvordan du kan skabe en hverdag hvori der er mere overskud og energi til at sætte ind på f.eks. kosten. 
Jeg deler altså en masse viden, vaner og værktøjer med dig i denne workshop, Men jeg gør også en dyd i at beskrive hv orfor jeg anbefaler at gøre sådan, da det tit gør forståelsen større og gør det nemmere for dig rent faktisk at begynde forandringerne . 
Praktisk
Workshoppen foregår over 2 aftenener, online via Zoom.
Del 1:
Tirsdag d. 04.01.21 kl. 19.00 – ca. 20.15

Emner på del 1:
Kulhydrater, hvorfor og hvordan kan du med fordel have dem som en fast del af din kost?
3 madvaner der gavner din PCOS
Del 2:
Tirsdag d. 11.01.21 kl. 19.00 – ca. 20.15
Emner på del 2:
Mindset til et liv med PCOS uden restriktioner
Hvordan du kan få mere energi og overskud til kosten, og skabe en livsstil med mere ro
Et par dage inden 1. del vil du modtage en mail med link til zoom samt et worksheet med lidt opgaver relateret til emnerne. 
OBS: Kan du ikke deltage på selve dagene, så har du mulighed for at se replay i de to efterfølgende uger, og du er altid velkommen til at skrive og stille spørgsmål 🙂
Prisen er kun 312,5 kr. Men stiger d. 01.01.22 til 450 kr.